Which Class Should Business Travellers Use?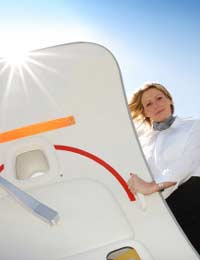 Things used to be easy with the different classes on airliners, there was just one class in the first place. Then first class was initiated to differentiate from economy, and then business class, somewhere between the two, came along in the 1980s.
When is Business Class Worth Paying For?
There are no standard definitions of any of the class types. Some airlines discontinued their first class services when they launched business class, but others didn't. In Europe, there's more likelihood that there will be business class and economy on a flight within Europe, but in the USA internal flights tend to be just the one class.
But often Business class isn't really all that much to write home about. On short-haul flights in Europe there often isn't any difference apart from a free newspaper, a drink, and a little curtain between the business travellers and the ordinary people in economy.
On medium haul routes in Europe you are more likely to get a wider seat but the leg room and seat pitch will still be the same as in economy. Low-cost carriers don't mess about with classes at all, except on long-haul flights. Not having allocated seats is one of the things that makes the service cheaper to run, so introducing different classes for different areas of the plane would be impossible.
When is Business Class Not Business Class?
The situation is further confused by the need of the airlines to re-brand classes every now and then so that business travellers can be told that they're getting something new. So now there's Premier Class, Pearl Zone, L'Espace Affaires, Club Condor and all manner of variations on the theme.
The waters have been muddied even further recently with the introduction of premium economy services on many internal flights where the main benefit of the service is extra leg room, which is what most business travellers want. If you are a frequent flyer on business then comfort becomes very important, and the ability to work, perhaps using a laptop, during a flight means more time at home and less in the office.
The good thing for frequent business travellers is that racking up flying miles and being a member of all the airlines' affiliated loyalty schemes means that upgrades can be had on those days when the thought of a long-haul flight in economy is just too much to bear. Points or miles accrued can be turned into upgrades as long as the labyrinthine rules have been followed.
So What Should Business Travellers Do?
The reality of the situation is that business travellers need to look at the perks that are offered with each class, and weigh them up against each other, and then assess the cost, if they are the one who will bear it. If a business traveller's company is to shoulder the cost then it's down to the traditional methods of getting what you want.
Those vary from making a compelling business case for it, to blackmailing the person who does the bookings, and all the machinations of company politics that fall between those two extremes.
You might also like...