Business Flying to the Americas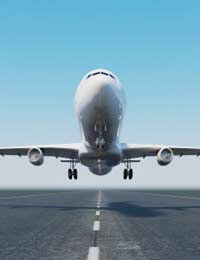 With one of the busiest and most competitive air routes in the world being New York to London, it's no surprise that there are a lot of business travellers making that journey. But as globalisation increases and companies spread their activity through out the world, the whole of the Americas are seeing action.
Business Travel Routes to the Americas
Although the strength of the New York to London link is still in place, the longer distances that modern aeroplanes can fly without refuelling is opening up other areas too. A lot of major cities in the USA are now served from the UK, and not just from London, nine cities in the USA and Canada are currently served from London and eight from Glasgow.
South America is less well served but Buenos Aires in Argentina and Sao Paulo and Rio de Janeiro in Brazil can be reached by business travellers from London. Central America has no direct flights from the UK or Ireland at the moment. With American business targeting Central and South America as potential marketplaces the number of flights from North America to those regions has increased a great deal so business travellers flying from the UK will be able to make trips to those areas by stopping over in North America.
This means the best bet for business travel from the UK to the rest of the Americas is to take a cheap flight to North America and then move on from there. There is a great deal of choice for airlines flying from north America to the rest of the Americas, although in some countries safety standards are not as stringent as in more developed parts of the world. It might be better to stick to national airlines if you are going off the beaten track.
Flying to the Americas is no Longer Too Expensive for Business Travel
From a cost point of view flying business to the Americas has always been a target for low-cost airlines but it's a volatile game and often they don't survive. Freddie Laker's infamous Skytrain in 1977 was the first to try it, flying on the New York to London route. He was muscled out by the incumbent national airlines and an economic recession and went bankrupt in 1982.
But Laker inspired others to follow, with Virgin Atlantic launching in 1984 and still flying to this day. Other airlines dropped their fares to compete and the result is that today flying across the Atlantic is far more affordable in real terms. The problem for many people travelling on business is that finance directors are more likely to insist on economy class seats for long-haul travel these days.
For frequent fliers the loyalty clubs can offer a way out of this. As points accrue they can be exchanged for upgrades to a higher class of seat. Often the most important thing for business traveller is extra leg-room and that can be obtained with an upgrade to business class or even, at a lower additional cost, a premium economy seat.
Use Your Mouse to Fly the World
The maturity of the web over the last five years has made it much easier for business travellers to put together flying routes to take them to parts of the world that would have previously cost a great deal. Not only are there websites for most of the airlines, where tickets can be purchased directly, but there are independent sites that detail all the route combinations, so you can work out a way to get to somewhere in Central or South America before you decide how to buy.
You might also like...