Getting a Flight Upgrade When Flying for Business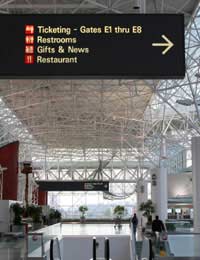 Getting a flight upgrade is the Holy Grail to some business travellers and rumours and legends about how to get upgrades abound. To be honest, some of these methods will work all the time and some are hit and miss, particularly the ways of getting upgrades for free. They depend on a lot on luck and what's happening at the airport when you travel.
If You Want a Flight Upgrade, the Only Sure Way is to Pay For it
First we'll go through the ways that work every time, regardless of the situation with the flight and at the airport, then we'll go on to the chancier methods. The most obvious one is to pay for an upgrade.
It's not worth paying for an upgrade to business or first class if you're doing a short hop in Europe though. There's almost never a first class and the difference between business and economy is often no more than a leather seat and a free snack and newspaper. There's rarely any extra leg room, which is the main point for many people.
But on long haul flights, if you're tall and like to spend time flying without your knees up around your ears, then it might be worth it. The problem is that for most business travellers their firms set rules based on the employee's grade, so only executives get business class, for example. If that's the case then you might consider paying for the upgrade yourself if it will make the flight more bearable.
Cheap Upgrades for Those Flying Frequently
It is possible to buy flight upgrade certificates on internet auction sites. These are promotional giveaways and more widespread in the USA so they are worth considering if you are flying in and out of the US frequently. They will guarantee you an upgrade but only if there is a spare seat on the plane in that class. If there isn't, you can at least keep the certificate for another day.
If you spend a lot of time flying on business then you'll almost certainly have joined up to a frequent flyers club and started saving your flying miles or points each time you travel, depending on how each scheme works. You may never accrue enough benefits to pay for a flight itself but they may well pay for an upgrade every now and then.
Operational Flight Upgrades
Free upgrades sometimes come your way as a result of the airline overbooking flights, which they do all the time as many people don't turn up. These are known as operational upgrades, and can be for other reasons too. When they've got a problem, airline staff will go down the lines of people waiting to check in, asking if anyone would be prepared to take a later flight.
The compensation for this is usually an upgrade so if you have the flexibility to wait around then your flight could be a lot more comfortable. You could try pushing your luck even further and asking for access to the airlines VIP lounge while you wait, that might work if it will be a long time until you are flying out.
Flying Upgrades For Free
Finally we come to the 'have a go' methods. The main tips for free upgrades are to dress smartly, behave well and ask. But psychology plays a part too. Try to have a chat and work up some rapport with the person at the check-in desk.
On one occasion a pair of business travellers from Heathrow to Washington DC flirted with the (female) check-in desk attendant to no avail. But the same woman turned up at the gate and one of the businessmen basically wheedled at her until she gave in.
One of the most absurd, but reported to work when you travel in the US, is to use 'Lord' or 'Sir' as your title when you book the flight. This won't cut the mustard on the flight out of the UK but for the return flight an upgrade may well happen. Then you can really travel in style!
You might also like...