Business Flying to Africa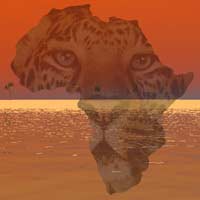 Flying to Africa on business really is a case of dealing with two worlds, and they're not geographic ones, more social and political ones. Some countries have a modern airline industry with all the safeguards that you'd expect and others, well, they just don't. Serious fears have been raised about the state of flying in many African countries after a spate of high profile accidents and since the problems seem to be endemic, there's little chance of change in the near future.
Having said that, there are business opportunities throughout Africa and business travellers will still be flying all over this vast continent to make the most of those opportunities. That might prove difficult for business travellers form the United Kingdom, since many of the countries and cities of the continent don't have regular services from the UK. Still, connections can be made so that's just a minor inconvenience.
A Paucity of Direct Flights to Africa
Much of West Africa only has occasional direct flights from the UK, mainly London, with Nigeria being the main exception, with daily flights to Lagos. Unfortunately there has been a rash of high profile internal air disasters that have brought the safety situation into sharp focus.
Many of the flights to other areas are tourist flights, though many of the charter firms fulfilling those routes will now accept direct bookings from business travellers. Along the northern Mediterranean coast this is true of flights to Morocco, Algiers and Tunisia.
In the west there are direct flights to some of the main cities with Kenya probably the best served. Travel to Zimbabwe for business reasons is probably pointless because of political unrest. As far as travel to South Africa is concerned, although it has its dangers, flying is not one of them, at least no more than any European country.
Flying the Only Real Option for Internal Travel
Getting to the major cities is really only the start. For vast tracts of Africa the roads are somewhat lacking and what railways there are slow and uncomfortable. Flying is therefore really the only option for doing business without incurring massive delays. This puts business travellers right in the firing line of the problems with the aviation industry.
Cycle of Problems for the African Air Sector
The problems are that poorly trained pilots are flying badly maintained aeroplanes, and being allowed to do it by poor management and corruption. The continent suffers around thirty per cent of global air disasters while having less than four per cent of the traffic. Any pilots that do manage to show enough competence are attracted to the better salaries and conditions of other regions, at the moment the rapidly expanding air sector of the Middle East, so that compounds the problem.
Under-funded airlines are buying poorly maintained, sometimes ex-military planes from the era when the Russians were actively backing communist regimes. These often have no flight records and spares are unobtainable. The economics of the regions mean that the passengers can't afford to pay realistic fares, so the whole cycle is self-reinforcing. Corruption is rife in many African countries so the aircraft are signed off to fly when they are little more than flying coffins.
Take Travel Advice
The advice for business travellers flying to Africa is to stick to the established scheduled airlines. That's fine for getting there in the first place, but only to some places. Even then it's highly likely that the next step to get to wherever your business is to be conducted will be an internal flight. The problem is that in many areas of this vast continent, three times the size of Europe, there simply are no established scheduled airlines.
BUSINESS TRAVEL EXPERT IS FOR SALE.
This website is for sale [more info].
You might also like...