Driving for Business Around the UK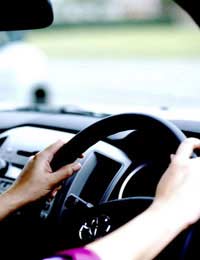 The image of the road warrior, or rep, driving from city to city along the United Kingdom's motorway network is a compelling one, although it's not that attractive to most business travellers who have to do it. Congested motorways and ever-attentive speed cameras have taken a lot of the fun out of driving but even before then many of the businessmen who were doing the mileage did not enjoy it a great deal.
To some extent the existence of the telephone and now videoconferencing should mean that business travel is on the wane, but the reality is that travel has become cheaper, and, despite the congestion, easier than before. And salesmen in particular know that people often don't buy a product, they buy into you, and that's harder if they don't know who you are. Building relationships is important and as long as that still relies on face-to-face contact, the roads will be full of cars driving to their next appointment.
Look for Comfort When Driving on Business
One thing that can make a difference if you're travelling around is to have a comfortable car. But as the taxman bites ever deeper into the company car perks and companies pull in the purse strings as hard as they can, the chances of getting a decent car out of a company are getting slimmer. The government in the UK sees company car owners as soft targets as they are perceived as being interested in the latest and most gadget-laden cars, so they'll carry on and swell the taxman's coffers.
The savvy business driver might get a more comfortable option by dropping down a model and getting better and more adaptable seats and a decent sound system. This does mean that they would have to be firm enough in their resolve to be able to put up with potential barracking from colleagues for 'down-sizing'.
But being comfortable is a serious issue. A report in 2007 highlighted driving long distances as second only to DIY for causing aches and pains in the UK. As well as being forced into a slumped position that puts pressure on the lower back and hips, the stretching to reach the steering wheel and pedals, and even pulling out of the seat, can cause problems too. Having a multi-adjustable seat can help drivers find the most comfortable position and it is also advisable to change the position a little every now again as a change is as good as a rest in this regard. Don't change it while driving though.
Forward Planning makes for Better Business Travel
Apart from a comfortable car, good forward planning can do a lot to make a journey more pleasant. Even if you have a satellite navigation system it makes sense to look at the journey on a map before you go. If you have to go to more than one location during the course of a business trip, try and plan a route between them that means you spend the shortest possible time on the road. Looking at the route in an overview can also mean that you can perhaps plan detours that will take you through pleasant countryside for parts of the journey.
Leaving earlier than you need to will also help keep stress levels down. If you get there too early you can prepare for the meeting once more. If you hit congestion you will be able to relax because you will have built in enough time to cater for it. And if you've done all that you'll be able to take it easier and not have to hassle everyone out of the way in the outside lane in a desperate attempt to get to your meeting in time.
You might also like...
@peterM - check for any apps on the apple or play store. Also contact the satnav providers - or check out functionality on the internet. If any ofour readers know of anything please post here!
BusinessTravelExpert
- 30-Apr-15 @ 11:50 AM
Is there a satnav blue-tooth link to a tablet allow route planning on the tablet on various scale map, with easy transfer to satnav as well as route update in event unexpected road closure. This should also enable way-point selection using stylus on the touch screen map.
Peter M
- 24-Apr-15 @ 11:30 PM