Flying for Business in the UK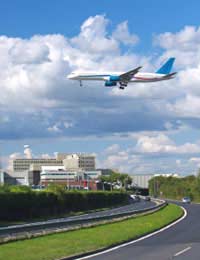 Travel around the United Kingdom by air was only really an option for the rich and famous until around thirty years ago when the first shuttle flights began to take off from Heathrow to Glasgow. This was the first 'walk-on' service as opposed to having to book a seat, or even charter a plane.
History of Air Travel for Business
Up until then air travel for business people was restricted to small planes and expensive flights, to and from places where road or rail travel was less practical. Outlying islands off the shores of the UK such as the Shetlands or the Isle of Man had flights to complement the ferry crossings, for example.
And small companies would start up flights from one place to another if they saw a specific demand. Weekly flights between Bournemouth and Liverpool, for example, existed to serve an engineering firm that had a number of offices and factories in both locations.
Arrival of Low Cost Air Travel in the United Kingdom
But since then air travel has come down significantly in cost, even more so since low cost air travel really arrived in the UK in 1996, when one company opened flights from Stansted to Glasgow and another from Luton to Edinburgh and Glasgow. Business travellers fed up with motorway congestion and train delays and accidents were quick to realise the advantages of low cost air travel.
Of course, with the exception of flights between Northern Ireland, Scotland and the south of England, flying is often slower than driving, particularly when you factor in the travel to and from the airports at either end and baggage delays. This becomes less true the closer your destination is to the airport, nearer you are to the starting airport, and whether or not you check in any luggage. Business travellers on day trips are, of course, unlikely to have more than a briefcase and a laptop, so the advantages are there.
Assessing Air Travel for Business
The problems with air travel, as opposed to driving, are similar to those of train travel. You are not in control of where you are going and any problems with the flight or the train can stop you completely, sometimes for hours. This is less likely with driving, although it can happen. Also you are able to go from door-to-door in a car, whereas with air travel or train journeys you are restricted to the available routes and destinations.
The real advantage of flying is the low cost. This isn't just the preserve of the so-called 'low cost' airlines either, business travellers are beginning to find that the actual cost of cheap fares is not that competitive against full service airlines once all the hidden extras have been taken into account. And the little extras with a full service flight like snacks and newspapers are things that some business people are prepared to pay a little more for.
Killer Advantage for Businesses When Choosing an Airline
But the big advantage for business travellers with full service airlines is the approach to ticketing and transfers. With low cost air travel, if you miss the check-in closing time for any reason they will not let you board, even if the plane is on the ground for another hour or more. You will then have to pay again to take a later flight, and as the low cost air travel model makes flights cost more the closer you get to the flight date, they are at their most expensive if you have to buy on the same day as you are flying.
With a full service airline you have more options (although shuttle flights are not so lenient) and will quite often be able to take a later flight with no extra cost. With some airlines co-operative deals are in place and you will even be able to get a flight with another airline rather than the waiting for another flight by the original airline.
When time is money, that's something many business travellers will willingly pay for.
You might also like...