Food and Drink While Driving on Business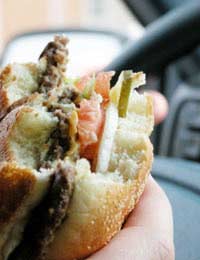 Motorway services stations were a byword for awfulness until quite recently, and there are some that aren't particularly fantastic even today. But with more and more people driving on business than ever before, and more places to eat opening up all the time, competition for the business traveller's pound has improved the offerings.
Changing Attitude Towards Refuelling While Driving
This is all the more important today as the police, in the last few years, have gained the power to prosecute people who are seen to be drinking or eating behind the wheel. Prosecution for doing this used to be at the discretion of the police as it depended on whether or not they thought the driver was in control. If not, they could be guilty of careless driving or, in serious cases, dangerous driving.
But new laws have been brought in that define a new offence of driving while 'avoidably distracted', and the advice being received is that eating or drinking while driving will be included in this category.
Employers' Responsibility Towards Drivers
As a side issue, if driving is an integral part of your job you should be aware that the responsibilities of your employers extend to looking after you while you are at the wheel. They should, if they have more than five employees, have published a policy on driving and should also perform risk assessments for staff. These should both cover advice about eating and drinking while on the road, as well as many other safety issues of course.
Food And Drink Offerings For Business Drivers
As driving habits and the road network have changed over the decades so has the landscape of the food and drink offerings. Greasy spoon cafes have all but disappeared and motorway services have, as was suggested earlier, cleaned up their act. Technically more superior eating places to the greasy spoons, such as the Happy Eaters chain, survived for a while longer but eventually died a death. One similar chain does still linger, awaiting the final swing of the Sword of Damocles.
Motorway service stations used to be spread quite far apart but many more have been built in the past couple of decades. Couple this with the improved fuel efficiency of modern cars and business travellers and other road users now have the ability to choose between different establishments.
The resulting competition has forced the sector to gear up. Many service stations now have a number of different food and drink concessions. More modern ones operate on a 'food court' basis where there is a central eating area where people can eat and drink regardless of which outlet sold them the food.
Use The Internet For Off The Wall Options
Some people simply don't like stopping at motorway service stations though, even if many of them are a massive improvement on their predecessors. For those people the power of the internet can come to their aid, as a number of sites give details of places to get food and drink that are just off the motorway. Some focus on a particular area and others are national. Just look up one of the junctions you will be passing and find something that suits you.
A Road Options For Business Travellers
On A-roads there are similar operations to the motorway service stations, albeit smaller, springing up at major trunk road junctions, and at larger petrol stations there are now often hot food and drink outlets with a number of seats.
These are a little impersonal but unfortunately, with time meaning money, it's a lot easier than trying to get into a town, park up and select somewhere to eat, unless you have a good hour or two free.
You might also like...