Keep Fit Advice for Business Travellers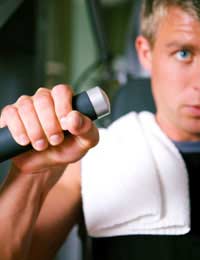 For the vast majority of business travellers the long hours of travelling are spent mostly sitting down and eating on expenses, which all work against a desire to keep fit. It also makes keep fit tricky to work into the routine as well, so the odds are stacked against business travellers.
But wise business travellers will want to keep fit and increasingly the facilities are there to cater for that need. If there's no time to take advantage of those facilities while travelling, then some exercise at least can be taken, even in confined spaces when there's little time. Quite apart from the physical benefits, business travellers who can keep fit are likely to be mentally alert and less tired.
Look Ahead to Make Keep Fit Opportunities
If you are staying away from home for a while get booked into a hotel with a gym or a swimming pool so that you can use it to keep fit. If not, get a map from the front desk and go for a run, just half an hour is enough to be of significant benefit. Or use the bed and chair in your hotel room as benches to do some sit-ups or presses. It's not necessary to have weights, just do exercises where you are moving against your body weight, like press-ups, and stretches to keep supple.
You are more likely to make use of hotel facilities to keep fit if you have shorts, training shoes, swimming trunks and the like with you, so make sure you pack them. If you travel on business a lot, keep a separate bag packed with keep fit clothing that you can just put straight in with your other baggage, then it will always be with you.
You could even add a skipping rope too, it won't take up much room and it's a great, quick cardio-vascular workout tool. Or a couple of resistance bands, which you can get in varying strengths from a local physio or online. These loops of wide and very resistant rubber can be used in all sorts of ways to build up muscle and again take up next to no room in a bag.
Avoid DVT With Keep Fit Exercises
There's been a lot of focus in recent years on exercise to combat Deep Vein Thrombosis (DVT) which is where a blood clot forms in the veins that run through the muscles in legs. This can block blood flow and cause serious heart problems. Even without the threat of DVT, first linked with air travel in the 1950s, business travellers who sit for long journeys on trains and planes are advised to get up and go for a walk around every once in a while to keep fit.
Stretching exercises are good too, some which can be done while in a seat and others in a space in an aisle, if you can find one. Most airline magazines nowadays have details of some suggested exercises that can be beneficial during a flight. If you're driving, make sure you stop at least every ninety minutes, if not more, and go for a short, fast walk and have a bit of a stretch. Set out earlier to allow time for this keep fit regime so that you won't feel pressured.
Keep Fit is About Diet Too
Finally, a word about diet and alcohol. So often while travelling the evenings are filled with boozy expense-account dinners and client entertainment. That's fine once in a while, and is an accepted part of doing business, but if it's every night it will begin to take its toll on fitness and waistlines.
Try to stick to a similar eating and drinking routine that you would follow at home and refuse the temptation to snack on the meeting biscuits just because they are there, then you are more likely to keep fit and stay fit.
You might also like...
all of this makes a lot of sense, my brother inlaw travels a lot on business and always seems to put on a few pounds each trip. He recently had a scare when he thought he was having a seizure due to deep vein thrombosis...sitting still on a plane for too long. Happily it turned out to be nothing but he won't be laughing at those people doing seat exercises anymore and he has started cutting out fatty foods and alchohol too.
fatty
- 22-May-12 @ 5:17 PM