Aids and Gadgets for Business Travellers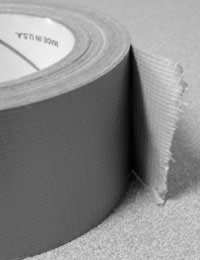 Aids and gadgets are loved by many business travellers and to be honest it's something to keep people occupied while stranded in an anonymous airport again – browsing through the shops. Many of these aids and gadgets are related to mobile phones and computers but those are covered in articles of their own in this section so here we will be discussing the more mundane and eclectic travelling aids.
Luggage Control Aids
Many aids and gadgets bought at airports are just gimmicks but one seems to have found a lot of friends among business travellers – bright coloured buckled straps that go around your suitcase. With so many suitcases looking identical these days a strap like this will help you pick your bag out at a hundred yards, saving vital seconds at the baggage carousel. They help hold your case together should the locks burst, a not uncommon experience.
A cheaper alternative, and also a device that will have a million and one other uses too, is a roll of duct tape, otherwise known as gaffer tape. This is like a three inch wide roll of super-sellotape, usually fabric backed but increasingly now plastic.
This super sticky stuff can bind your luggage together, tape tricky buckles out of the way and also be used to mend all sorts of articles that might break. Even mobile phones and laptops have been spotted on flights held together with this amazing stuff.
Useful Pens for Business Travellers
A business traveller should never be without a pen, and a spare one just in case, so we have found a few pens that have hidden virtues. The first has a recording function so that you can record quick notes or even conversations. It can play them back too, or transfer them to a PC using a USB interface.
The same company has now released one that records video too, although it is a little larger and more obvious if you are after secret recordings. The third has a massaging tip so that you can relieve tension after that tricky negotiating session. Both can also be used to write on paper.
Comfort Aids
One that's aimed more at keeping your cool is the personal cooling system. This gadget is like a thick necklace with a small water reservoir and a fan running off an AA battery. This allows about four hours of cooling delivered by evaporation of the water through fan, a boon on flights or in hotels in far-flung places where air-conditioning hasn't been invented.
The Gadget that Stays at Home
Finally the ultimate in travel aids is something that you don't actually take with you – a personal video recorder, or PVR. This is a digital recorder that you can plug into the television which records hours and hours of television so that you can catch up on all your favourite telly when you get back from travelling.
They usually come with a freeview or satellite tuner built-in, and often two, so that they can record two programs at once. Different hard disk sizes mean different limits to the number or programs that can be recorded, but eighty to a hundred hours is now pretty standard, a lot more than a video can cope with.
Now you'll never again have to miss the last episode of that programme you've been watching for two months, it will all be there waiting for you when you get back.
You might also like...