Connectivity and Technology While Away on Business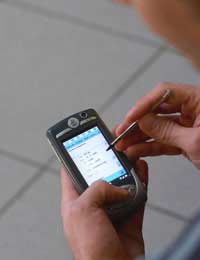 Being able to use technology to communicate while away on business is crucial in today's business world. These days it is simply assumed that the technology being used can be connected to other systems as well. These may be systems at a head office, connected through the internet, or both, but at a minimum people now expect too be able to email and telephone people wherever they are in the world, and connectivity is now an important issue.
Early Technology and Dial-Up Difficulties
Ever since the technology to use email with laptops came along, the problem became one of dialling up to the internet in locations other than at home or in the office. Many early Internet Service Providers (ISP) realised this and made international dialling numbers available so that business travellers could at least connect back to the UK by making international calls from their modems. But this was expensive, particularly if the call was being made from a hotel.
But for the ISPs the situation changed when the market changed in the late 1990s and they had to offer 0845 phone numbers to attract internet users. These numbers are not usually callable from abroad as they rely on the revenue earned from people dialling them in the UK. There were, and still are, a few other options. Some ISPs offer worldwide access with software that can ask you where you are in the world and then get a local number to call from their internal database. But the situation really improved for the better when Wi-Fi technology took off.
Wireless Technology Improves the Situation
The point about wireless networking technology, when connected to a broadband dial-up, is that the wireless router makes the connection to the internet, not the computer. This means the wandering business person can now forget about how to connect to their ISP as the hotel, airport, coffee bar or wherever deals with all of that. All the business traveller has to do is connect their laptop to the Wi-Fi network, something that recent laptops and operating systems have made a lot easier.
Mobile Phones for Backup Connectivity
For the times when Wi-Fi is not available, although modems can still be used, an easier but probably more expensive option is to dial up from a laptop using a mobile phone as a modem. Cheap calling options are discussed in a separate article in this section but we'll talk about the technology here.
Most mobile phones can be used as modems but their owners aren't aware of it, and it does sometimes need a degree in technology to make it all work. Basically the drivers for the phone need to be installed on the PC and then the two need to be connected together physically. Depending on the laptop and the phone concerned, this can be done with a serial cable or USB cable, or an infra-red or bluetooth connection. With recent phones and laptops bluetooth is the most likely option.
This process has been made a lot easier by the development of technology that cuts out all that faffing. First there was the mobile phone in a PC Card and more recently USB modems. These are effectively mobile phones in a USB stick with all the drivers and software installed so they become 'plug and play' technology. As long as there's a mobile signal you can get connected, although speeds are sometimes very limited.
Technology to Make Wi-Fi Connectivity That Little Bit Easier
One gadget that might make technology connectivity a lot easier on the road is a Wi-Fi hotspot detector. These are small handheld devices that search for a Wi-Fi signal and tell you if they've found one, usually on a series of LEDs or a small display.
This saves getting the laptop out, powering it up and then finding there's no signal to use. There's now even one that doubles as pen, which you'd be carrying anyway, so it doesn't even add to your gadget bundle.
You might also like...