Are Lightweight Netbooks Useful to Business Travellers?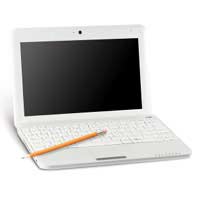 The computer market is suddenly awash with small laptops, a sector of the market that didn't really exist until late 2007, early 2008. A couple of innovative manufacturers dipped their toes in the market with cheap, small laptops at that time. They had no real storage to speak of but majored on connectivity, and suddenly all the movement was in that sector, with competitors clambering over themselves to offer similar systems.
The result is that nearly 35 million netbooks are expected to be made in 2009, according to one research company.
What is a Netbook?
'Netbook' has so far become the most generally accepted term for these small, light laptops. Often the main data storage will be on an SSD (Solid-State Drive) rather than a hard disk, i.e. using the same memory technology that's used in cards for cameras and USB memory sticks.
These systems have proper keyboards, although with slightly smaller keys and sometimes a cramped layout, and a screen that's usually 8 or 9 inches across. They are larger than smart mobile phones or PDAs (Personal Digital Assistants) and follow the usual 'clamshell' laptop format but are not as big as laptops.
Cool Running
The motor that spins the hard disk takes a lot of power and creates a lot of heat, so using memory (with an SSD) instead means that, although there is often less storage space, the battery will last longer as there's no motor and fan to drive. The netbook is also more comfortable to use as it is lighter and doesn't get so hot.
There will be no floppy drive and no CD or DVD drive, the intention being that customers will attach devices using USB or FireWire when they are needed. They nearly all have Wi-Fi and many have 3G modems built-in so that they can connect to the Internet almost anywhere.
Can Netbooks be Used for Business?
But can netbooks be used as serious computers for business travellers? Certainly there would appear to be many advantages, such as light weight, portability and faster start-up times, but on the other hand the style of many netbooks shows that they are not aimed at business users.
Many users have criticised the sometimes cramped or awkward keyboard layouts that make touch typing difficult. If you're showing something on your laptop screen to a customer or a supplier, the narrow letter-box shaped screen will make that harder than with a full-size laptop.
Windows or Linux?
But a major difficulty is the choice of operating system. This is a crucial difference: many of them have simple interfaces built on top of versions of Linux, the free operating systems, rather than Windows. This means that manufacturers do have to pay a royalty to the owners of Windows.
This can be a complete no-go area for many business travellers. Trying to make a Linux system operate in a company infrastructure that's largely Windows-based could cause problems in the field. Now that many systems interfaces are web-based, it may not be too much of a problem but then again, if the company's IT department has built with Windows Explorer in mind then they may not work particularly well with the browser that comes with a netbook.
Many netbooks are now coming out with Windows, at a slightly higher price, but it's XP, not Vista, the latest version. This is happening because the netbooks manufacturers are being incentivised by the owners of Windows who do not like seeing non-Windows systems becoming popular.
Road Warrior Connectivity Issues
There is a more subtle problem from the non-Windows operating system that will affect the business traveller too, and that's interoperability with other devices. Most business travellers will have mobile phones, PDAs and other devices that they need to synchronise with and nearly all of the programs that come with these devices run on Windows, not Linux.
While it's possible to find programs that will work with some of these devices, you need computer knowledge to make them operate properly. Anything that puts you into that kind of realm is something that's stopping you from doing your real job, and that's usually a no-no for any business traveller.
Try a Netbook?
However, for someone who makes a regular journey, a long-distance train commute, for example, it would certainly be easier to carry a netbook than lug a netbook around. A netbook might not work as a complete replacement for a large-screened laptop or a desktop but it could certainly make many business travellers' lives a little easier.
You might also like...