Easy Flight Boarding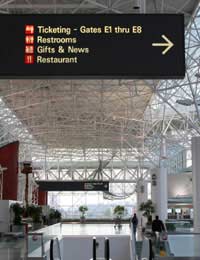 While the global airline security hiatus is relaxing a little there are still a number of security checks and other hold-ups on the way to your plane. To make boarding your flight as easy as possible flows these hints and tips.
Don't Carry a Lot of Baggage
This is the most obvious tip, one that seasoned travellers will not need telling If you can fit everything in a case that will go onboard as hand luggage then do so. It saves a little time when checking in but the real value is at the other end. You will be at the head of the queue for customs, border controls and the taxis away from the airport.
With an increasing number of budget airlines now charging for luggage place in the aircraft's hold this tip makes even more sense.
Dress For Trouble
No, that doesn't mean risqué clothing but dressing in a way that makes security checks as easy to get through as possible. If you can get away without a belt on your trousers then do so, or at least wear one with a plastic buckle.
Don't wear a lot of jewellery that will set off the metal detectors at security. Wear slip-on shoes without buckles or laces so that you can take them off and put them back on quickly with the minimum of fuss.
Computing Risks
If you're taking a laptop with you be aware that some airports in the UK are still interpreting the 'one bag rule' to include laptop bags, so either fit your laptop into your hand luggage or put everything into your laptop bag.
Phone to check with the airport you are using before you set off if you think this may now have been relaxed. Note that many security checks will require you to remove a laptop and pass it through the scanner separately and you may even be asked to turn it on as well.
Leave it at Home
The rules regarding liquids are beginning to be relaxed around the world. But if you're leaving from the UK on a business flight it still makes sense to leave toiletries, toothpaste and cosmetic and bathing products at home.
The rules about putting them in plain containers and clear plastic bags are so convoluted that not bothering is just easier. It's a pain in the neck having to buy replacements when you get to your destination but all business hotels will be able to provide them for you.
Document Your Trip
Check that your passport, driving licence, visas and insurance documents are up-to-date and valid for the areas that you are travelling to. Make photocopies of them and leave them at home or with a work colleague so that if you do have any vital stolen or lost then a phone call will quickly reveal the ID numbers and details of the documents.
Take Your Time
Finally a very simple tip. Leave for the airport in good time, assume that the worst will happen and you will be heavily delayed on your way to the airport. Budget airlines in particular simply will not wait, whatever the excuse.
If you're worried about wasting time not working, take your laptop and any necessary documentation and work in a coffee bar or lounge at the airport.
You might also like...