Safe Business Travel on Motorways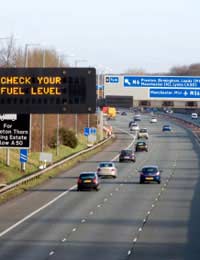 Motorways are the stock in trade of the business traveller in the United Kingdom and although there's the potential for horror accidents, particularly when the weather is bad, statistics show that mile for mile they are safer than other roads. The problem is that when accidents do happen on motorways, the average speeds and the number of vehicles in the vicinity are much higher than, say, on A-roads, so the potential for damage and injury is a lot higher.
Keeping Distances For Motorway Safety
One of the main causes of problems on motorways is not keeping a enough distance between you and the vehicle in front, or tailgating. It's a hard habit to break, particularly for business travellers who get used to doing a lot of miles on a motorway. You naturally get drawn into closing the gaps if you are waiting in a lane for everyone to get past slower traffic.
The two-second rule is useful here. If you can count two seconds between the car in front and yourself then you are ok. The galling thing is that if you do hold that gap open on a motorway in the UK you invariably find someone jumping into it from the inside lane, or someone flashing you from behind because you're not in the boot of the car in front. And it will tend to be another business traveller too.
Still, if you stick to the rule then you will be safe and those people won't. And beware that this guideline, and many of the others in this article, needs to be stretched when the weather conditions are bad, particularly in the winter.
Moving Between Lanes On Motorways
Lane discipline is important too. If all the drivers on a motorway pulled over into the lane, to the left of them, unless they were overtaking, which is the correct way to do it, there would be a lot less congestion on UK motorways. However, this should be tempered with an eye for safety, as switching lanes too often and too quickly is a risk in itself. Assess your speed and how long it will take you to reach the next thing you want to overtake before pulling all the way in.
Take Notice Of Tiredness On Business Travel
Tiredness is another safety factor that it's important to take seriously. It's a difficult thing to assess but motorway police examiners believe that a lot of unexplained accidents, where there's no other vehicle involved in the early part of the crash, are caused by drivers accidentally nodding off for a second or two. Certainly this looks like it's the cause of many of the accidents where vehicles on the hard shoulder are hit, either that or drivers being distracted by something they shouldn't be doing.
Don't be too proud to take a break. Have a nap in a motorway services area or if you aren't very good at doing that, take a walk around in the fresh air and have a drink and something to eat to keep energy levels up. Tiredness in the day is often linked to hunger rather than a lack of sleep. But if you have a drink with caffeine, a cola drink or a coffee, watch out for the energy dip that will hit about half an hour to an hour after you've finished it.
Motorway Safety Comes Down To Ego In The End
The main point about motorway safety, and this affects all the problems discussed in the article, is that motorway travel, particularly for business travellers, is used as a replacement for battle. Much of the stress and anxiety on motorways is about holding your position, not allowing people in, constantly trying to overtake and so on.
For many business travellers, particularly ones in larger executive saloons, it is considered a weakness to pull in to the middle lane and they would never be seen dead in the inside lane. Or maybe they will. The key to safety on motorways is to control the ego, not to worry about other cars overtaking and to understand that taking breaks is important.
You might also like...