Using Sat Nav, Maps and Route Planning Software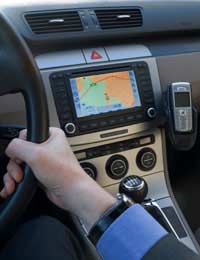 Ever since the gadget-laden spy films of the 1960s drivers have been waiting for in-car automatic guidance systems to appear in real life. In the 1990s their prayers were answered when satellite navigation systems (sat nav for short) began to appear. But are they any better than maps, and where does this leave route planning software?
Sat Nav Conquers the World
Sat nav was initially available only in in top range cars but eventually trickled down to even quite mundane models. And they are now available in shops, to fit to cars that don't have them, from less than a hundred pounds.
Sat nav uses signals from global positioning satellites (GPS) to work out where the vehicle is and then guides the driver to their destination using internal maps. The units and offer voice and/or graphic instructions. They can be very simple or have a host of features such as allowing the driver to select their route preferences, entering towns or motorway to avoid, and many other options.
The maps are often held on a DVD or CD, but increasingly, as memory prices come down, they are stored internally and updated by linking to a PC, often using a memory card. Some units can link to traffic congestion reporting services, warn the driver and suggest alternative routes. Sounds perfect, why would anyone want a map, particularly if they're on a business trip and time is of the essence?
So Why Do We Still Buy Maps?
Well, everyone's heard the stories. Coaches sent down farm tracks and having to be pulled out by the farmer's tractor, cars sent into rivers and foreign lorries getting stuck down narrow lanes. Such mistakes are rare but they do happen, so perhaps it's not wise to rely on sat nav completely, but to have a map handy to double check things. After all, a businessman who reports a story like one of those as an excuse for missing a vital meeting is not going to look too clever.
Apart from that, many people prefer to use a map for the overview of the whole journey and the surrounding areas, something that sat navs aren't that good at delivering. A trial and survey by the consumer organisation 'Which?' in 2006 found that a road atlas was the most effective method of navigating. But using maps in a car is cumbersome as you really need to stop as reading maps while driving is obviously very dangerous.
Route Planning Software
Sitting half-way between the map and the sat nav are route planning software packages and websites. These aren't portable but they are very useful for pre-planning a route. There are a number of web-based services and these have the advantage that they are free and are updated centrally, although how frequently is not usually revealed.
Route planning software that is installed on a PC has a great deal more in the way of route planning features. It is easier to modify and you can set it up with your own set of preferences so that the routes it comes up with are more likely to suit your requirements. However, updates have to be bought and if you're a business traveller you'll need to do that annually at least. Not a problem if the company pays, but otherwise it can be a pain.
With both PC-based and web-based route planners you have to print out the directions and the map, but at least then someone else can read the instructions out to you if you're not travelling alone.
Your Accounting Friend On The PC
But there's one vital business process that route planning software beats both sat nav and maps at, hands down. If you're sitting at your desk and don't have the mileage for your trip to hand, just get onto the route planning software and you can get the vital figures for that expenses claim form in an instant!
You might also like...