Using the Train for Business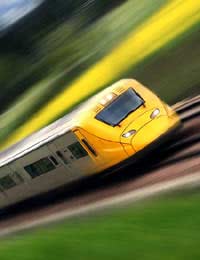 Travelling by train is today considered a green option but for business travellers there are a lot of reasons why the car still reigns supreme for the majority of business travel. Some of those reasons stem from the current state of the railways, some from the problems inherent with any railway system, and some are more personal. But if rail can be made to work for some business journeys, there are a number of advantages to taking the train.
Travel By Train Makes Sense For Many Journeys
For some routes, nothing but the train makes any sense, getting into London or other major urban conurbations in the United Kingdom are a good example. Only people who need to carry a lot of goods, or those with chauffeurs, would drive into London from anywhere outside the green belt. Apart from the congestion you have to find somewhere to park, and that costs a bomb even if you can find somewhere.
For travel between two major centres the train often makes sense. Going from Birmingham to Glasgow, for example, takes about the same amount time and it's a lot less stressful than taking the M6 and the A/M74. The time can be used on a train, making phone calls and catching up on reading or working on a laptop.
Ticket Systems And Other Accessories For Business Travellers
Train providers have gone a long way in recent years to accommodate business travellers, providing first power sockets to charge laptops and power other accessories and then rolling out Wi-Fi for internet access, both at stations and in trains. Ticket systems have been streamlined so that it's now possible to buy train tickets online or over the phone to avoid delays at the station.
Some Routes Simply Don't Work
The problems arise when your starting point or destination doesn't match up with the train network. To go from somewhere on the South Coast to the East Midlands, for example, is possible but extremely long-winded, and it's journeys like that where the car wins hands down.
If you don't live anywhere near a rail station it's trickier to use trains and you are less likely to even consider it. And while trains are cheaper than cars if you take all the finances of running a car into the equation, a long taxi ride at either end of the journey quickly blows that idea out of the water.
Anomalies And Inefficiencies From Privatisation
Privatisation of the railways has also caused some anomalies in the way that trains are run that make it less efficient for business travel. When all the services were under one umbrella the signals could be manipulated to allow express trains to overtake slower trains. Although rules are in place to make this happen in theory, in practice it seems to be more problematic, and often trains are delayed by a slower one ahead, or a broken down train belonging to another operator.
Splitting up the network into competing operating companies, who all have to share the same line and stations which are run by yet another company, has encouraged a culture of non-cooperation between companies. This means that companies can delay each others services and then, if you miss one train, you might not be able to get on the next one at all, unless the two competing companies have agreed to honour each other's train tickets.
Equally train operating companies are disadvantaged by Network Rail's maintenance schedules, and their overruns, and some companies have staff who still won't travel by rail in the UK after the sequence of high profile rail disasters in the 1990s and early 2000s.
Horses For Courses
Put it like this, it's no wonder that well-run businesses steer clear of a service that they can see has inherent problems, many that can't be controlled by the train operating companies.
However, if the route works, there's no doubt that taking the train allows business travellers to make better use of time and usually arrive in a better frame of mind than those who have taken the same journey by car.
You might also like...