Flying to Europe on Business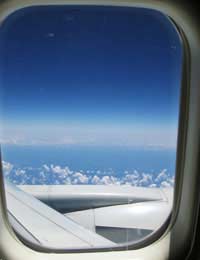 Air travel for business people in Europe is far more common nowadays than even just ten years ago. This is partly because of the increase in globalisation, meaning that companies are getting ever larger and more widespread across the globe, but also the deregulation of flying in Europe that has allowed competition to flourish, meaning cheaper flights and more routes.
Flying for Business Gets Easier
Before the early nineties there certainly was business travel by air through Europe. In fact it was largely business people travelling on European flights, at least for scheduled airlines, as they were prepared to pay the prices to get to important meetings, conferences and so on. Tourist air travel was in the main handled by charter airlines flying out to deliver passengers on package tours as holidays were largely booked through travel agents.
The rise of direct booking for flights, cars and hotels, first by phone and then over the internet, helped make flying for business cheaper and easier. Companies who had previously gone to travel agents, usually those specialising in business travel services, began to see that they could use an administrative member of staff to do all the bookings direct and save on the travel agent's commission.
Internet Compounds the Advantage of Direct Booking for Businesses
This was sometimes a false economy, as travel agents are often able to access group discounts that a secretary calling from a company could not. Also, without in depth knowledge of the area where the bookings are being made, hotels could be booked that were inadvertently too far away from wherever the business traveller needed to be working, or from the airport. Things like this are not just an inconvenience; because time is money business travellers need and expect everything to go like clockwork.
The change of the internet from a tool for geeks into a usable business platform made it easier to deal with problems like that. Hotel websites will give information about the area and travel facilities and airline, car hire and airport websites will all add in there own information too.
Low-Cost Flying Across Europe
Many businesses were slow to embrace the low-cost airlines when they first appeared but very soon that reticence disappeared as financial directors began to see that there were significant cost savings to be made. Fears about reliability, safety and delays turned out to be unfounded, with the low-cost airlines not faring any better or worse than the scheduled airlines in these respects. There are a number of issues that business travellers need to keep an eye on when choosing a flight.
Firstly many of the low-cost airlines are flying into smaller airports that are further away from a city than the main airports and consequently have poor transport infrastructure. Secondly the price of the flight is often quoted without all the extra taxes and charges that are added on by low-cost airlines and, particularly if booking close to the date of departure, the real price may be no better than a scheduled flight. Of course this is also because the scheduled airlines have reduced their prices in response to the competition.
A scheduled flight may also come with a meal, whereas the low-cost one won't, and there'll be reserved seat places so that business traveller can avoid the unseemly scrum for the best seats. But the one killer advantage for the scheduled airlines is when dealing with changes to schedules.
Dangers of the Wrong Air Travel Choice when Flying on Business
If a business traveller misses a flight, or has to change it to a later one, this can be done with a scheduled airline, and there are processes and procedures to make it happen. They can even get a flight with a different airline at no extra cost if there is a reciprocal agreement in place, making air travel easier and more accommodating for business.
This is where the low-cost airlines don't cut the mustard. Their uncompromising attitude to lateness and delays, even if there is no fault on the part of the business traveller, means that passengers have no recourse but to buy another ticket with the same or a different airline. Also because many of the airports are not mainstream hubs, there may sometimes be no alternative flight on the same day anyway.
This is one key factor that keeps business travellers flying on scheduled airlines.
You might also like...