What Makes a Hotel Good for Business Travellers?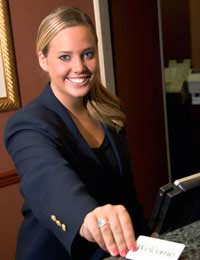 Picking the best hotels for business travellers can be a tricky affair. The general standard of hotel accommodation and facilities is going up every year and there's a lot of competition in the business travel market. Large hotels cluster around the world's major airports then the hotels in the centres of their host cities pitch for the same business.
And the tricky thing is, accommodation that works for one business traveller isn't necessarily going to work for another. The nature of the business travel they need to undertake will dictate their needs as well.
Accommodation for the Whistle-Stop Tour
If, for example, a business traveller is on a whistle-stop tour seeing three or four customers in different locations around the world, then time and expediency are going to be the most important things.
Quick and efficient check-in, a comfortable no-nonsense room, a good shower and speedy laundry facilities so that they look good for the next meeting, will all be important. A well fitted business lounge with all the necessary gadgets and adaptors to allow the road warrior to keep in contact with the office and fast printers need to be available round the clock.
Of course the hotel is often the place for business too. It's not unusual for breakfast meetings to be held at airports around Heathrow where US executives, who flew in the previous day, meet their counterparts from the UK divisions. Then they'll get on a midday flight to somewhere in Europe to continue their round robin trip. This means that hotels trying to attract business people need to have full on conference facilities available at the drop of a hat too.
Different Accommodation Needs for Longer Stays
But what a hotel needs to provide for a business traveller who is an office in a different country perhaps staying for a week or more could be quite different. Comfort is likely to be more important. They may well be entertaining some nights, but perhaps not all, and will be looking to take some time out to relax during their time too.
So although a business centre with computers, faxes and printers is still important, this is where the leisure facilities come in. Gyms, pools and spa treatments all help and golf, if there's the space for it, is a killer attraction. Most of the hotels being built around the newer, larger out-of-town airports in the Far East are building golf course in their grounds.
Alternative Accommodation to Business Hotels
There are some googlies being thrown into the mix too. To many people's surprise the winner of a men's style magazine's 2007 Best Business Hotel of the Year award in the UK was a boutique hotel in Manchester. This show that business travellers are just as likely to appreciate ground breaking design and comfort as anyone else.
Another new kid on the block is the self-catering apartment. Available for short rents, these allow business people who prefer not to live with the restrictions of hotel accommodation to have a place of their own for the duration of their stay. The apartments usually have kitchen facilities but as a lot of business travellers will be eating out on expenses or entertaining and networking, they only need to be basic.
One of the benefits of this sort of accommodation over a hotel is that it provides a workspace as well as living space, very useful for people who have gaps between their meetings during the day and need to prepare documentation and presentations. People can get comfortable in their own space and spread things around too.
Make Sure You Clear Your Tracks
One word of caution though. Business travellers really need to be clued up enough about technology to be able to wipe all the footprints they have left from any computers that they use in hotel business centres. In these days of fast and global identity theft it pays to take precautions.
You might also like...