Using Airport Lounges on Business Travel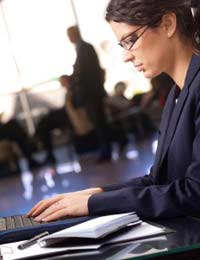 Airport lounges for business travellers are becoming standard fare at most major airports and with business travel the main economic force behind scheduled airlines and city airports, it's no wonder that pandering to the executive is proving to be good business.
The facilities range from one executive airport lounge, that you may have to pay to get into, at a minor airport to a wide selection in many of the newer airports, with business lounges in all parts of the airport. In addition to that, many of the airlines will have set up their own executive lounges for the exclusive use of their business passengers at key airports.
Two Types of Executive Airport Lounges
Executive airport lounges come in two distinct categories. There are those that are run by the airports themselves and are open to anyone who either pays on the door or when they buy their airline ticket. They are actually often run by separate companies who lease the space from the airport, but the main point is that they are open to anyone who pays. You can pay for individual visits or, in most cases, sign up with an annual membership fee to a scheme which gives you access to a group of airport lounges worldwide.
The second category is those run by the airlines. These are available to business class travellers or the members of the frequent flyers schemes that multiple airlines have signed up to.
There is no essential difference between the two categories in terms of the facilities, some will have more facilities than others but that's across the board. Sometimes the independent ones are better and sometimes they aren't, it depends on mix at each individual airport.
The 'Best' Airport Lounges for Business Travellers
You might think that winning an award for the best executive airport lounge or being in a 'top ten' might point the way to deciding which ones are the best. Unfortunately the reality is that there are so many awards given out globally each year that it would be a surprise to find one that
hadn't
won an award.
The awards can be very subjective too. A survey of the world's best business airport lounges by a writer for a national newspaper in the United Kingdom reported three UK-based airport lounges in their top ten. Over on the other side of the pond an American business magazine's top ten unsurprisingly doesn't feature any in the UK, although they do feature an airport lounge at JFK, New York, that's run by a UK-based airline.
When Should Business Travellers Use Airport Lounges?
When to use airport lounges is up to you. If you travel frequently on business you will almost certainly be in one or more of the membership reward schemes and if there's a comfortable lounge with WiFi, power points, showers and somewhere to eat and drink that's away from the masses, then you might as well take advantage of it.
If you do not travel so frequently and you are thinking of using a lounge on a pay-as-you-go basis, then it's going to depend on the length of time you think you will be waiting and the price.
Executive Airport Lounges Become Essential Everywhere
But all the airlines and airport obviously think that a business lounge is an absolute must. At the Crown Point Airport on the island of Tobago in the Caribbean is possibly the smallest executive airport lounge in the world at 15 square metres, and it has a staff member in it too!
You might also like...