Top Airports for Business Travel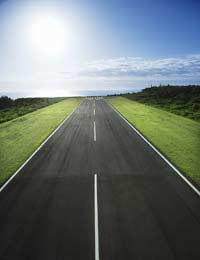 The honours for the best airport in the world, to be honest, tend to go to whichever airport is the newest, and with airports being built or extended all over the world to cater for the boom in flying there's no shortage of those. But there are a few airports that buck the trend and deliver what business travellers are looking for from airports on a regular basis without being brand spanking new.
Not Just the New Airports Taking the Plaudits
One such airport is Melbourne in Australia, where the airport was built during the 1960s but still regularly wins awards in the 21st century. It's Australia's second biggest airport, but if plans go through it will be the first in the country to install a Category III landing system which will allow planes to land in low visibility conditions.
This might seem a bit too technical for business travellers but when time is money, being able to land instead of having to go to another airport that's free of fog, that's worth money. Melbourne has featured in the world top ten airports every year since 1993 in a survey of Business Traveller magazine readers.
Grand Sweeping Vistas in New Airports
The newer airports in the Far East, Chep Lak Lok in Hong Kong and Beijing, that were designed by Sir Norman Foster, have received many plaudits and Chep Lak Lok has been voted the best airport in the world by Skytrax, an airline industry research company who survey real customers at the airports, for the seventh time in ten years.
This is almost certainly because they are vast sweeping buildings that give a stunning impression of space with massive internal vistas and, being new, they are over-specified for the current travel levels so aren't so crowded. Top facilities such as WiFi all-round, business lounges with showers and gym equipment as well as places to work and relax, certainly help too.
But Changi in Singapore, which has also often topped this award, and is usually second when Hong Kong is first, was originally opened in 1981 and its constant appearance in the awards is testament to the policy of upgrading and expanding well in advance of demand. This means that the airport doesn't get too crowded and delays in the actual airport are minimal, something that business travellers appreciate. The airport has an orchid garden and a roof pool too.
A Round-Up of Some Other 'Best' Airports
There are many airports that appear in the various awards handed out to airports but we only have space here to feature a few. Worthy of special mention is Munich airport. Built in 1992 has a 60 seat cinema and a miniature golf field to keep business travellers on stopovers usefully employed.
The golf motif is also carried over to Incheon Airport at Seoul, South Korea where the golf course joins Korean spa treatments as the key relaxation opportunities. This airport has also won plaudits, winning best airport for 2008 in the awards from the industry body Airports Council International.
In Europe, Copenhagen is renowned for its refined interior with wooden floors throughout and artwork on display, and Zurich gets a special mention as you can hire small rooms with a kitchenette and shower facilities to freshen up if you have a long wait for a flight. A Home away from home!
You might also like...