International Business Travel: Taxi, Airport Buses, Limos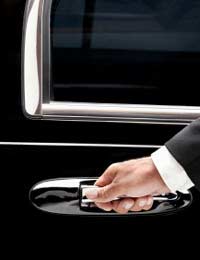 One of the things that can often throw business people who travel is the journey from the airport to the city centre, or wherever they need to meet up and do business. Frequent business travel leads many people to be blasé about the latter legs of their journeys and the default option is to hail a taxi. But that might not always be the best idea.
International Business Travel Often Means Taxis
People who travel frequently on business will already know that taxi drivers in the international arena are not generally as clued up about their cities as London cabbies. Surprisingly it's some of the best developed countries that are the worst. Taxis in Germany, for example, are well-regulated and usually equipped with satellite navigation systems that help out.
But in America, and New York is particularly bad for this, the taxi drivers don't seem to know anything about the city apart from downtown and frequently have to resort to phoning their offices for directions. In many other countries there is no set rate for journeys and business travellers unaccustomed to haggling will often pay an over-inflated price. This may not bother them as it's often not their money and in countries where this happens an over-inflated price probably seems a relatively small amount, but nobody likes being ripped off.
Limos Offer Certainty and Security
With time a major issue for those engaged on business travel limousine services are a way around these problems. Having a driver waiting for you at the airport gets around the problem of queuing for a taxi, which can be quite a major headache. Another advantage is that a limousine driver will (you hope) already know where you are going and will have sorted the route out. The downside of limos is the cost, of course, but companies are prepared to pay for this to make sure their executives get to where they need to be on time and without drama.
Dodge the Traffic on a Rail Link
But limos are just as likely to get caught in traffic as a taxi. For this reason most new out-of-town airports come with dedicated rail shuttle links to the cities they serve. These may or may not be cheaper than a taxi or a limousine but in business travel speed is often more important than price, so using the rail option often makes a lot of sense.
Not many people in their right mind would take a taxi from Heathrow into the centre of London, for example, when it's a twenty minute ride away on a clean up-to-date train. But the rail link isn't really going to deliver the goods if the final destination is nowhere near a city rail terminus, although a taxi from that end might sort that one out.
Airport Buses and Coaches
Airport buses and coaches are the best option for those doing international business travel but have to watch the pennies. There are usually buses in prominent locations in cities that shuttle back and forth to the airport. Most major hotels will also have comfortable minibuses that will do the rounds of the hotels to pick up passengers for the airport for a reasonable rate and you don't have to lug your baggage around either.
In fact, when trying to take a taxi from Manhattan to JFK airport, taxi drivers will often drop passengers off at one of the express bus stops instead. This is because they would probably have to queue for a long time at the airport to catch a return fare and there's more lucrative work available in Manhattan.
Use the Internet to Check out Business Travel Options
The internet is a very helpful ally in trying to work out the best business travel option. There are numerous sites where details about travel options to and from the various airports can be found. Many of them also have options for comments from others engaged in business travel who can update or confirm the details and perhaps add in their own hints and tips too.
You might also like...