Car Sharing for Business Travel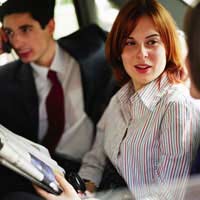 Is car sharing viable for business travel? To some extent it depends on the journey and it's in commuting that car-sharing has proved most popular.
Benefits of Car Sharing
Car sharing is good for the environment, as the amount of fuel burnt per person per mile is dramatically lowered, which saves money for the car sharers too. It's good for congestion as well, as there are fewer cars on the road, and those benefits are set to increase as car-sharing-only lanes are introduced to congested roads in parts of the United Kingdom.
With commuting the likelihood of a number of people going to and from a certain location on a regular basis increases, and that makes car-sharing easier and more worthwhile. Many companies offer car-sharing services on notice boards and company intranets; in some cases this is run by a business park or industrial estate central office, or even a local council. Through these services people can find others who live near them, or in the same direction, who will be willing to share car journeys.
Business Travel and Car Sharing
Most business travel in cars that falls outside commuting is more spontaneous in nature and therefore it's difficult to arrange to share a car. If a number of people are going from one office or branch to the same place then they would quite naturally share cars and that's been the case for many years. But if someone suddenly has to go to another company office or factory, or if they are visiting a customer, then it's highly unlikely that they will find someone making the same trip at short notice.
Pool Cars for Business Travel Car Sharing
For these situations then car sharing can really only help out as part of a central initiative, by increasing the number of pool cars available to employees and having fewer company cars assigned to individuals. This means that there will still be plenty of business travel done with only one person in a car, but at least there will be fewer cars on the whole at the company premises and that saves money for the company.
It also makes more sense as the taxman is less beneficial towards company cars as a perk these days, both the employers and employees. The problem with making a change like this is that no-one likes having any perk taken away from them and a company car is no exception, in fact it is possibly the perk that people get most attracted to. So this will have to be handled delicately if there isn't to be a detrimental affect on the company from disgruntled key employees.
Check Insurance Details Before Car Sharing
One major point about car sharing is that people who share their car with others need to make sure that they stay abreast of the regulations concerning travelling with others on business. There is no need to declare petrol money contributions given by lift sharers unless they are excessive. The taxman may then assume you are operating a taxi service rather than car sharing and penalise you accordingly.
One area that might catch you out is insurance though. Many insurance policies will not charge any extra for using your car to give people lifts while travelling to and from work but it's worth declaring it to them. If something were to go wrong they might use it as an excuse not to pay out.
If you are sharing the car with other employees while on a business trip then you will need to make sure this is covered on your insurance too. Most insurance companies will cover you for occasional business use but will charge extra for business use over that level. But you absolutely must double check that you are covered for the other people who are sharing the car with you.
You might also like...