Communication as an Alternative to Business Travel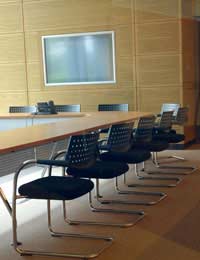 The promise that communication technology would allow us to work anywhere used to be the stuff of science fiction, but it is finally beginning to deliver. Until this technology becomes easy and simple for the ordinary person though, it is likely that business travel will still be taking place.
Communication by Phone Changes Business
The phone was the first communication tool that changed the way people did business. Although a reliable post system came along a lot earlier it doesn't really fit into the field of communications technology. The phone enabled people to conduct business faster and certainly a phone call is quicker, cheaper and better for the environment than a business meeting where one or other of the people involved has to travel.
But until conferencing facilities came along, communication using the phone couldn't really handle more than two people on the line. These systems allowed communication with more than that, usually by each person dialling in to a central number. At first phone conferencing facilities relied on technology installed at the customers offices, or went through an exchange. They were very expensive to install and difficult to set up as well, needing training for everyone which made people reticent to use them.
Video Conferencing Aimed to Make Business Travel Obsolete
This was even more true of video conferencing services which began to appear in the 1980s and became cheaper and more user friendly in the 1990s. Many video conferencing facilities were sold on the basis that using them for communication instead of face-to-face meetings would lead to massive savings in business travel.
But in many companies they sat idle because they were too difficult to use, they needed expensive phone lines to carry the video data, and, critically, everyone attending a meeting had to have the same video-conferencing system or they couldn't join in. However, phones and conference calls enabled companies who were prepared to put in the effort to operate global businesses with a lot more efficiency.
Enter the Internet – Ultimate Communication?
The internet's use of the telephone lines changed the way people in companies began to operate. First email superseded the internal memo and then instant messenger tools enabled people to send quick messages to each other wherever they were in the world.
Once the bandwidth of the internet increased to a point where it could reliably handle audio traffic then businesses started to use it to carry phone calls (known as voice over IP, or VoIP for short) and this really took off for small businesses and private individuals alike with the popularity of VoIP programs for the PC.
Now internet-enabled video conferencing is commonplace and the beauty of it is that anyone who is connected to the internet can call in from a PC. As communication technology like this is operated via a browser, anyone who uses the internet can use it, so it is easy and more inclusive. Even traditional phone conferences are easy and cheaper to set up; there are numerous services on the web where you can set up a conference call with a few clicks of a mouse.
Will Communication Improvements Oust Business Travel?
Whether or not all this communication technology will lead to less business travel and fewer face-to-face meetings is anyone's guess. At the moment it seems that many business people still like to collect their air miles and their road and rail delays as battle scars to be proudly displayed.
Only changing that road warrior mentality will lead to a real shift towards communication tools instead of business travel.
You might also like...