I Made Your Airline Meal: A Case Study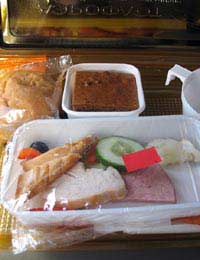 Airline meals vary from the inedible to the indescribable and can often make or break business travel. We spoke to a catering professional who had been until a few years ago the manager of a team of people who made airline meals for a number of different airlines.
For reasons that will become obvious there will be no airlines or catering companies mentioned by name and we're going to use the name John Smith to refer to our interviewee.
Catering for the Future
"I got into catering by accident, to be honest," John said, in the relaxing surroundings of his current post, a pub he is managing in the Wiltshire countryside, not far from Swindon.
"I was studying medieval history at Cambridge and started working in bars and pizza parlours to earn a bit of money on the side. When I finished the course I was offered a trainee management opposition with one of the companies that had been employing me part-time. After about six years I eventually I stopped looking for a job where I could use my history degree."
Cooking up a Career
Jobs managing restaurants, pubs and bars came and went but almost every new job meant moving again and John took the job making airline meals to try and get settled in one place for a while. The job was at a catering firm that made airline meals for a number of different airlines, mainly budget airlines. But after three months he knew that he wouldn't be able to stay for long.
"Don't get me wrong," he said, "I don't mind cooking airline meals, it's just as good as any other cooking, but we were contractors and all the staff were agency workers. The whole supply chain was squeezed as hard as possible all the way down the line."
So that's why, if you fly frequently on business, you might notice changes in the quality and quantity of airline meals. It might be the number of raisins in a biscuit dropping, or the taste of the cheese lump changing. "The focus was rarely on quality or good food, it was always about money," said John.
Airline Meals Safe as Houses
What about deliberate contamination or jokes played by workers with strange items ending upon in airline meals? "It's not as prevalent as people think, trust me. Most of the workers were on minimum wage and lucky to have a job, so they wouldn't dare step out of line, they had no protection at all."
"But I like to think that I managed to get all the staff on my shift caring about delivering good work, and a lot of the staff responded to that attitude. As we were based (of necessity) very close to Heathrow, I could point to the aircraft overhead and say: 'look, someone up there's about to eat food that you prepared.'"
Is the Vegetarian Option Worth Going For?
Is there any truth to the often repeated tip to order vegetarian food as the quality is better?
"It's not really true these days," he replied. "In the past vegetarian meals for airlines were put together individually, by hand. But now there's more demand the vegetarian meals are just as automated as all the rest. There's less chance of food poisoning, I suppose, but regulations are now so strict that that's becoming increasingly rare away."
Would You Eat Airline Food?
Finally the killer question: Does John eat airline meals when he goes away? "Of course I do. If you talk to anyone who has worked in any aspect of catering or food production they will all have some horror stories."
"If you believe them all you'd never eat a pasty, a pre-made sandwich or a meal in a restaurant, come to that, so I don't see why airline food should be any different" he said.
You might also like...