A Business User's Experience of UK Hotels: A Case Study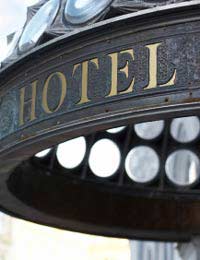 A study by the leading consumer group Which? of budget hotels, including an undercover investigation, was published in 2009 and found poor hygiene standards.
In the same week that the findings were published Christopher Rodriguez, the chairman of VisitBritain, in an interview with a national broadsheet, claimed that the state of Britain's hotels, with poor service and high prices, was still a cause for concern and could affect jobs in the sector.
So is it all bad news for the business traveller? Does it affect the way people do business in Britain? We spoke to a couple of international business travellers to get their views.
View from a German Business Traveller
First off Dieter Weissmuller*, a builder and property developer who lives in Dresden in Germany told us about the hotels he stays in when he's on site in Munich and Essex.
"Because Dresden was in the DDR the hotels were crumbling and service was poor but things have improved a lot since unification. I was very surprised by the hotels in Munich when I started my first project there. The quality of the buildings is better but this is not surprising," he said
"Inside the decoration is plain but in good condition because I do not stay in the most expensive hotels. The service is good. But then I go to Essex where I have this renovation project and it is very different."
Best of a Bad Bunch
Now on his seventh trip to England Dieter has finally found a hotel that he can live with, but even this one is not as good as an ordinary hotel in Germany.
"The staff do not seem to care about anything and the room is many times not cleaned well. The paintwork is damaged and you think that no-one has been told that they must check everything and fix the little pieces each year. But it is much better than the other hotels I found when I first start coming to England."
View from Across the Pond
Software developer and manager Ken Lumbruck* originally hails from New Zealand, is now based in California, and spends a lot of time travelling the globe with a major computer manufacturer.
"I know what to expect because I lived in England for six years after I graduated, but it's still disheartening, and I suppose I've been spoilt by being in California for over ten years. The big hotels near the airports (in the UK) are just like anywhere else in the world except for the prices, they're always more than identical chain hotels in other parts of the world."
But it's when he gets away into the towns of the UK that things take a turn for the worse.
Service Attitudes
"It's …. hard to explain really," he said, "it's as though people here, England in particular, don't seem to understand that being in service doesn't make you servile, if you know what I mean.
"Because someone's serving me I don't think I'm any better than them, in fact if they do a good job for me I'm really grateful and I make sure I let them know. Maybe it's a hangover from the class system, I just don't get it, but it goes through the whole establishment – if service isn't right then it feeds into every aspect of the hotel."
Conclusions
The views of just two people don't exactly make for a scientifically accurate survey but it's interesting that these two randomly selected business travellers have picked out the same core issues as VisitBritain and Which? The concern is that poor service leads to a fall in visitors and that will lead to job losses in the hospitality industry.
Although, it has to be said, the perceptions of our two travellers haven't stopped them coming to Britain to do business.
*Names have been changed
You might also like...