How I Hated Business Travel: A Case Study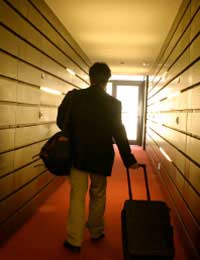 The world of the frequent flyer on expenses, travelling the world on business, looks glamorous to those who don't have to do it. And while there's no denying that it's nice to have the perks, many business travellers would rather stay at home and see their families once in a while.
Business Traveller in the Technology Sector
We spoke to one such former business traveller, Derek Glamorgan*, an IT and telecommunications consultant, who has sworn to hang up his carry-on case for ever. Why did he come to this decision and how did he carry on his business once he'd made the change?
As is often the case in the technology business in the United Kingdom many of the big career moves are with American firms. Once you get past a certain point in the hierarchy, travel from the United Kingdom to American locations becomes inevitable.
European Odysseys
"At first though," he told us, "most of the trips were to Europe. This was back in the 1980s and many American companies would set up a European base in the UK first, because we speak the same language. They would then open bases in other European countries as and when they developed enough business to make it worthwhile."
So in that decade, while the computing business was growing quickly, Derek found himself on the road in Europe, with a boot full of computers, on average two weeks in every month.
"Fortunately I got good O level grades in both French and German so I was able to get by when travelling, and the language was always English when we were in meetings or presentations. At first it was glamorous and friends were envious, particularly when I was one of the first people to get a mobile phone installed in my company car," he said.
Business Travel Pales
"But after a while it got to be a pain in the neck," he added, "I was always missing out on birthday parties and other social events because I was always travelling, never in the country at the right time. And having to spend a weekend on your own in a foreign city, because there was no point in coming back, was quite dull."
Eventually Derek left that job and worked with UK-based companies but eventually the lure of the developing Internet world came too strong to ignore.
Intercontinental Trips Begin
"I started working for one of the big name ISPs in 1998, just as the Internet was taking off and becoming a usable tool for business," Derek said, "that's when the American travel started."
Again it was fun at first, particularly since products and clothes were good quality and very cheap so it was fun shopping for gadgets and things. But, not being high enough up in the hierarchy to be able to travel in business class or first class, the flights themselves were not that comfortable.
"I'm well over six foot," Derek said, "so flying economy class is no joke. I actually like America but going there and coming back is not much of a picnic for me. One year I had four trips to the US and another to Thailand for work, and then a holiday in South America and another to a friend's wedding in Australia. In the end I told my wife that I wouldn't be going on any more long-haul flights apart from work, so she felt she was losing out."
The Solution – Go it Alone
Derek left the company after four years although it was more to do with taking advantage as the Internet started expanding very quickly.
"I realised I'd solved my problem by accident," he said. "By leaving the company and going out on my own as a consultant, using the network of people who I'd met while working there, I found that I was working for Internet startups and older companies trying to get on the Internet bandwagon, but exclusively based in the United Kingdom."
"There have been some horrendous motorway and train journeys, but on the whole it's been great. I work from home and there almost no business travel now. Mobile phones, email and particularly instant messaging have made it less necessary to travel," Derek added.
Now he can travel for pleasure. As he explained: "we went to see my sister who lives in New York last summer," he said, "and even though it was an economy flight it wasn't a problem. Now that I'm no longer a business traveller I can enjoy travelling for myself now."
* names have been changed
You might also like...